OK, this is really one of my favorite manifesting tools:
'FEEL IT NOW!'
Ask yourself HOW you would feel THEN, and find ways to feel it NOW!
**************************************
The tip I want to give and the tool I want to introduce today is about…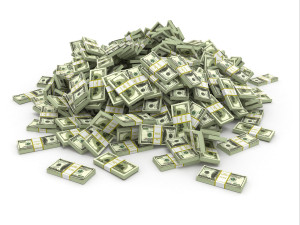 TA DA—> Manifesting MONEY!!! 
So, THEN, here means, when you have LOADS of money.



**************************************
When my coach asked this question to me some years ago, first I was embarrassed to admit and talk about the feeling I got.
Because I had imagined a big pile of money in front of me and all I wanted was to take them with both hands and stuff them inside my clothes and feel the money on my skin. :embarrassed face:
Oh, gosh! I wanted to feel the money on my skin! I wanted to wrap myself with money.

And it seemed ridiculous.
It seemed impossible.
AND embarrassing!
Feel it now???? HOW????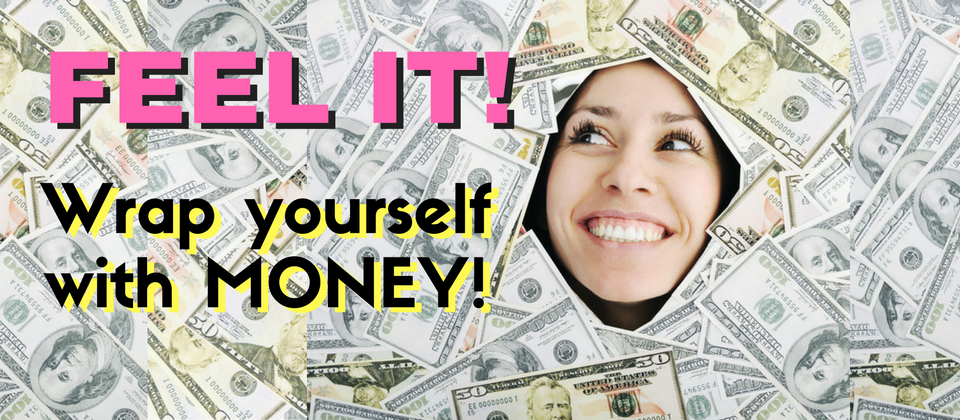 I gave mayself quite a lot of time to think and figure out HOW I can feel this now.
** I could use a few banknotes just for this purpose and not spend them, but it seemed not so nice and not clean. Uggghh!!!
** And a few banknotes would not be the same with wrapping myself with a lot of money and sleeping in them!!!! So, no, thank you!
** I even cut a lot of paper 'real money' size and tried to sleep on them, but no, I knew they were just blank paper, so it didn't work.
** And there were toy fake money I could purchase, but even they cost quite a lot if you want to make a huge pile. lol
So, no, no, no!
But I didn't give up, there must have been a way to feel it now, but how?
**************************************
To cut a long story short, in the end, I figured out what I needed: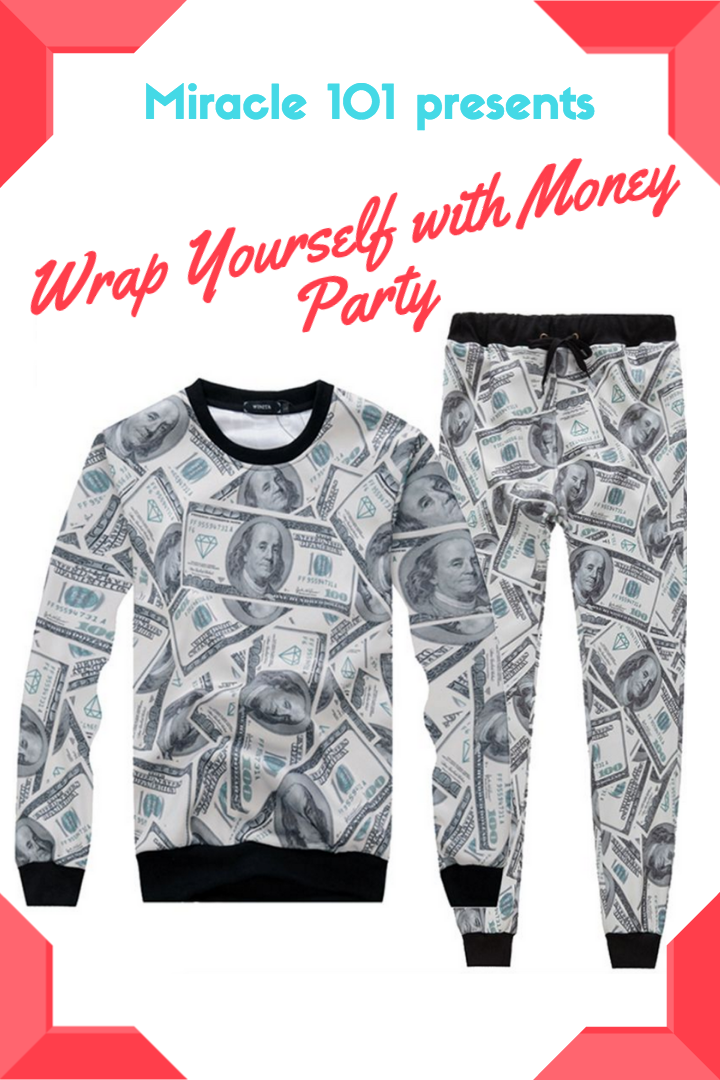 A PAIR OF PAJAMAS with money print on it!!! 😀
I know! I know! I am smart. lol
The real picture of money wrapped around my body, it finally felt like I am truly surrounded with money. Even when I closed my eyes, I knew that there were money all over, yay!
Tip: The subconscious mind does not know the difference between the reality in front of you and the vision you see in your mind. They are both images and feelings for it and it pulls into your life whatever you feel and envision.
This pair of pajamas helped me get a few nice and sweet windfalls and I must say, over the years, I wore off one and I have my 2nd already.

(Let me quickly tell you about one of those windfalls: Soon after I started wearing and enjoying these pajamas, someone wrote me an email and offered $2500 for a domain name I owned. I liked that name but it was not being used for many years since I purchased it, so I said, why not!  and sold that name! It was a quick, easy and nice transaction.)
Well, the return on investment is good, so I highly recommend getting one if you like the idea of sleeping in loads of money!

Remember:
Ask yourself HOW you would feel THEN, and find ways to feel it NOW!
Why not gift it to yourself or a loved one?
Or maybe I should say, INVEST?

Because, I totally believe it will bring at least ONE nice windfall, and maybe more. So it's totally worth it!
If you'd like one for yourself or give one as a gift to a loved one, you can purchase it here and now and it will be delivered to your address in about 2 weeks.
One added bonus, (which I haven't yet dared to use it) could be, using these for running and showing them off to your friends and neighbors!!! (Please send a picture if you do!

)
And here are some more details about these pajamas: (or jogging outfit, you choose )
Available sizes:
S/M/L/XL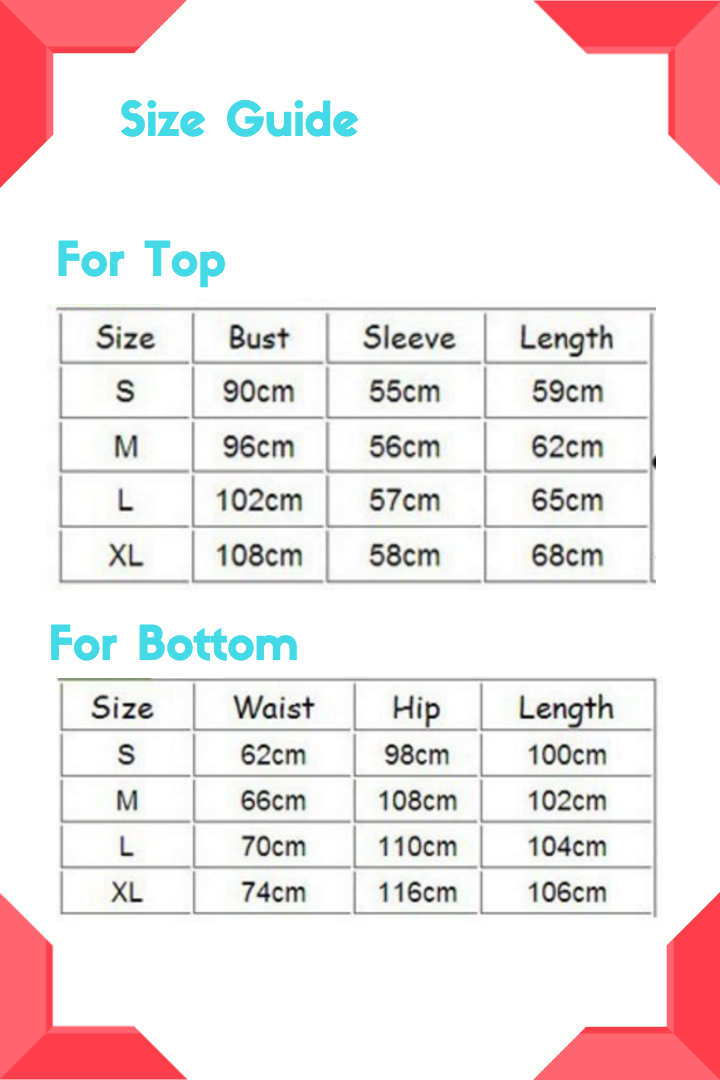 Material:
Spandex & Polyester
Gender:
Unisex for men/women
Price:
$60
Shipping and Handling:
$32 (delivery in two weeks or less)
If you'd like FREE shipping and handling, delivery will take around 30 days.
(In this case please purchase by sending the money to our Paypal email which is under the FAQ! And don't forget to write a note about the delivery address, size, etc.)
Frequently Asked Questions:
Q — Can I mix the sizes of top and bottom?
A — Yes, you can. In that case, please order both with one of the sizes you like and then make sure to write which you want different CLEARLY, in the NOTES section when you check out. And don't worry, if it is not clear, we will email you and ask for more clarification, but hopefully we can understand your directions.

Q — What if I don't like it? Can I get a refund?
A — Hmm, we will do our best to send you the product exactly as described here and we think you'll like it, but, if you don't like it, of course, you can return it with shipping cost on you, and you can get your pajama money back, if the product is not damaged by you. So please handle with care a few days until you decide if you like it or not.
Q — If I get 2, can I get a discount?
A — We appreciate if you purchase 2 or more pairs, so we are happy to give you 10% discount.

(But we can not combine this discount with any other discounts or coupons, hope it makes sense. Please use the discount code 10PERCENT when you check out.)
Q — I am thinking of buying 2 or 3 pairs, one for me and others as presents. Will $32 shipping be same for each pair?
A — If the other pairs go to different addresses, it will be $32 shipping and handling for each address. But if you will get ALL the pairs to ONE address, I believe the cost will be less even though not zero. I suggest, you order by sending money directly to our paypal email address (which is below the next Q&A) and just pay for the pajamas. We will check the exact shipping for 2 or 3 pairs to your address and give you the exact shipping cost and you can send it directly to our paypal email as well.
Q — My question is not here, how can I reach  and ask you?
A — Hope you have played our MONEY GAME on our home page miracle101.com Because that means you have our email address already and you can just send an email and ask your question. If you have not played the money miracle game, here is our email address: (in picture format to avoid spam robots.)

*********************************************
If you are ready for the 'Wrap Yourself with Money' Sleeping Party…
What are you waiting for?
Here are the available sizes and 'Add to Cart' buttons for each and more photos for you to feel and enjoy:
Size S: (Top&Bottom – Shipping and Handling included- Delivery in 2 weeks or less)
Size M: (Top&Bottom – Shipping and Handling included– Delivery in 2 weeks or less)
Size L: (Top&Bottom – Shipping and Handling included– Delivery in 2 weeks or less)
Size XL: (Top&Bottom – Shipping and Handling included– Delivery in 2 weeks or less)