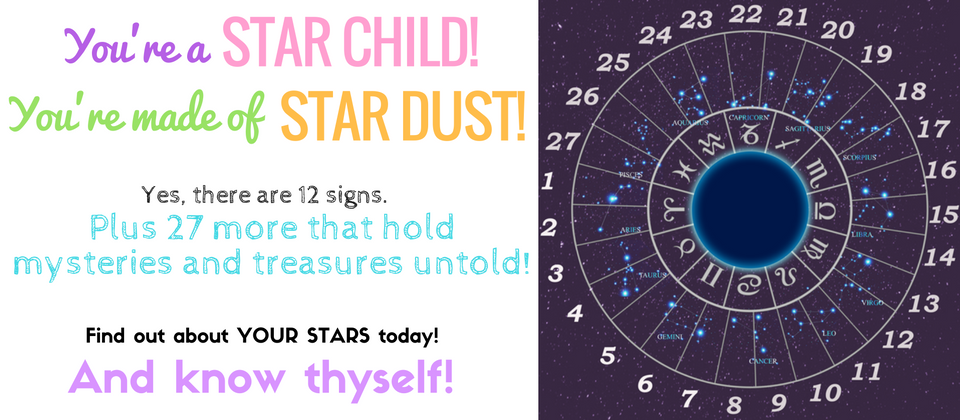 If you want to learn about YOUR STARS and HOW they were with you all along, we have a written report explaining all about YOUR STARS and what they mean and HOW they affect you and HOW they can help you know thyself. (Please see the report 1 below.)
**************************************************************
Please give us about 1-2 week to prepare, because it is not just reading, it also includes meditation on the chart.
All reports will be sent by email.
As you check out, remember to write any specific questions you have. The more information and detail around the subject the better.
AND DON'T FORGET TO WRITE YOUR EXACT BIRTH DATE, TIME and PLACE.
Here are all our reports available to order:
Report 1- You are a STAR CHILD! You are made of STAR DUST! 'Know Thyself with Stars' Report:
The star groups where the planets were at the time of your birth, shapes and molds who you are. The good and the bad.
They also gives us clues about the people in your life as they are all a mirror to you. They also give us clues about who you were before this life time and your karma.
So this reports can be a little heavy. It includes good things and bad things. It also reminds you who you may become, the HUGE potential in you.
Here are some examples of what's been said after getting this report:
from: www.goodvibeblog.com



from: www.intentionalperspective.com

 from: www.annebolender.com

from: www.jacqueline-gates.com

from: www.avalonianmoon.com

Report 2- 'Life Periods plus Current Transits' Report:
This report gives you the current life periods plus transits. (6-8 months back plus 6-10 months into the future)
To get the best result, please give feedback about your past important life events or what happened 5-10-20-30 etc. years ago, so that we can better understand the current transits and predict the events and the timings of these events.
Life consists of cycles. Planets move in cycles and our life periods happen in cycles.
Knowing which cycle and which period we are in and what it could bring together with the current transits in the sky can help one tremendously.
Report 3- 'Where is MONEY in my chart' Report:
This report is focused ONLY on money. It gives information briefly covering all the reports but only regarding money, and nothing else.
** Is there money in your birth chart and where is it, what is the potential and how and when can you reach that potential?
** How can you use your life periods and transiting planets' energy  to reach your money goals?
** Is there a time and date you need to be aware of for possible opportunities?
** Are there any combinations of planets in your chart showing money and opportunities? What? Where? How?
Report 4- 'Relationships, Marriage and Children' Report:
** What is in store for you, as far as relationship, marriage and children are concerned?
** You can write down all your questions giving us details and we will look at your chart to give you the answers.
** For this report you can give us the birth data of the other people who are concerned and this will make the reading and answers more accurate and to the point.
Report 5- 'Business and Career' Report:
** Are you destined to be your own boss? Or you better off working with or for others?
** What does your chart say about your work and career?
** How can you use the transiting planets' energy  to reach your business and career goals?
** Is there a time and date you need to be aware of?
** Are there any combinations of planets in your chart showing leadership or business/career success? What? Where? How?
Report 6- 'Spirituality in my chart' Report:
** Are there any combinations of planets in your chart showing spiritual growth? What? Where? How?
** How can you grow spiritually without going through the hardship and pain?
** What does your chart say about your karma, destiny and past lives?
Report 7- 'What is in my FUTURE' Report:
This report can ONLY be purchased after or together with all the above reports as it is necessary to look into all those aspects in order to be able to see and understand the future.  It will cover all of your life periods. But as far as the transits concerned, as you can imagine it not possible to  check all the years ahead so we will look into 2 years of transits.
You can ask specific questions with this report and the more details you give, the better we can look into it, astrology and planets-wise.
*********************************
 Frequently Asked Questions:
Q — Can I order just 1 report?
A — Yes, you can, except the report about FUTURE as it requires all the other reports.
Q — I don't know my exact birth time, would it still work if I just say, morning?
A — Unfortunately, the exact birth time is vital to have accurate readings. First report might still work though, except the Ascendant and Moon. As they are the fastest moving and changing degrees in a chart. But all others will stay in the same degree all day, so you can still have some benefit.
It is also possible to look at the important life events and  rectify the chart's ascendant and Moon accordingly.  But as it is very time and attention consuming, please purchase all 7 reports PLUS 3 reports as you check out. Also give us all the important life events, with their dates. We will work out and find out your birth time and prepare the reports with that date and time.
Q — My question is not here, how can I reach and ask you?
A — Hope you have played our MONEY MIRACLE GAME on our home page miracle101.com Because that means you have our email address already and you can just send an email and ask your question. If you have not played the money miracle game, here is our email address: (in picture format to avoid spam robots.)

*********************************************
You can order ONE or THREE, or SEVEN reports:
Here are the 'Add to Cart' buttons for each.
As you check out, please tell us,
** which report or reports you would like,
** PLUS your birth date,  month, year, place and exact time.
** You can also write your questions.
'One Vedic Report'
'Three Vedic Reports'
'Seven Vedic Reports'